MAG Property CEO Lynda Shillaw explains why a sense of place is increasingly important to staff.
Considering it's people that sit at the heart of any successful business, it comes as no surprise that accommodating their needs and understanding what their workplace means to them is vital. This seems obvious, particularly when considering the workplace in its traditional sense, but it is widely acknowledged that people's relationship with the workplace is changing more rapidly than ever.
Change has become the new normal, with one side-effect being that work is increasingly something people do, rather than a place to go. This means the physical locations and places of work that do serve as communal hubs are having to accommodate the shifting expectations and working practices of staff.
Now occupiers of all sizes are focusing on how they want their place of work to respond to the needs of their business and staff. Decision makers' wish lists comprise a growing number of variables from office layout, service and connectivity, to clustering, local amenities and community.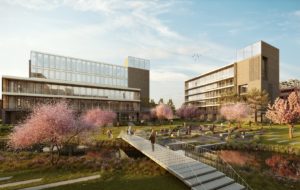 At the same time, the health and well-being of their staff is a key driver, with access to exercise facilities, bike parking, green space and clean air, all a higher priority than 10 years ago. This provides exciting opportunities for planners, landlords and developers to create and evolve physical places to attract and engage people.
However, creating places doesn't happen by accident. From the outset, the vision and commitment was clear, with an innovative vision for planning, significant investment in infrastructure and retail and public realm being delivered up front; as well as having a development partnership with a long-term stake in the site.
At Airport City Manchester, a similar journey is well underway. Here the vision and ambition is to create world-class place that supports a thriving business community; somewhere commercial success in a rapidly-changing and highly-connected world goes hand-in-hand with delivering a positive and lasting impact in the community.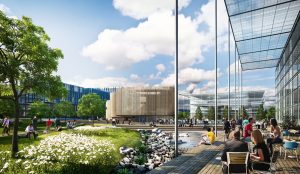 The success of Global Logistics, where almost 1 million sq ft of logistics space and around 3,000 jobs have been created, is a precursor to what we plan to achieve in the future. At Airport City North, our completion of the £15m link road unlocks 70 acres of land on which brand new offices, hybrid facilities, hotels and leisure space will be created, bringing many more career opportunities and high-quality jobs to an area of outstanding connectivity and aspiration.
But it's not just about developing infrastructure and creating brilliant buildings. By understanding what's important to a new generation, we are helping create a sense of place by proactively orchestrating the facilities, networks, activities, opportunities and attitude for great things to happen.
Already, we've made a conscious decision to invest early in the social and community fabric of Airport City Manchester; giving occupiers, visitors and local people the chance to form a connection from the outset. This is being achieved in a number of ways, most notably with our interactive 'Platform' event space, which has been designed for users to enjoy a wide range of pop-up activities from food, drink and entertainment, to education, talks and product launches.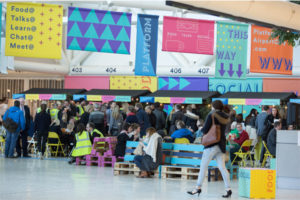 This approach is already providing a great success, helping enliven the development in its formative stages, but its implementation is merely a forerunner for many more events and activities that will bring the physical to life and ensure it is a world-class place for people to work.
Key to this is an emphasis on health and well-being, to help enable and promote a happier and healthier workforce and, ultimately, more productive organisations. This will be achieved in a variety of ways, from building design, clean air and green spaces, to the quality and variety of amenity and sustainable mobility available.
Cycling sits at the heart of this, and at the top of the transport hierarchy. Here, high quality changing and storage facilities will encourage colleagues to embrace riding to work, either on their own bikes, or those available to hire across the site. Simple, safe and enjoyable routes will connect key regional locations, allowing users to commute, exercise and relax with ease.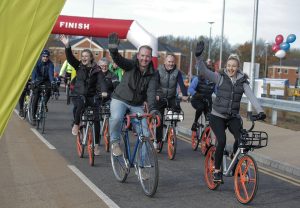 This ambition is already taking shape through our partnership with British Cycling, who recently helped deliver the Enterprise Way Community Ride, in which 150 staff, partners, occupiers and local community took part. Not only does this provide further opportunity for people to engage the place being created, it also launches a CSR strategy built on a commitment to placemaking, health and well-being and community engagement at its very heart.
With these foundations in place, we're able to nurture a sense of place now, helping provide the conditions for enduring success. Physical locations like these help the businesses that locate there communicate a corporate ethos and brand. In turn, this affects their ability to attract and retain talent, as well as engage customers; both essential to business success.