Lynda Shillaw was appointed as divisional CEO of MAG Property in 2014. It's been two years since Lynda Shillaw was appointed to head up Manchester Airports Group's property division. As its divisional chief executive, Shillaw oversees the group's £640m property assets across four airports – Manchester, London Stansted, Bournemouth and East Midlands.
This also includes one of the country's biggest and most exciting developments, the £800m Airport City Manchester scheme, a joint venture with the Beijing Construction and Engineering Group, Carillion and the Greater Manchester Pension Fund (GMPF).
It was no easy task. With such an extensive portfolio, which includes industrial, logistics, hotel, office and land development property, it was going to be a challenge. But also a 'brilliant' opportunity, Shillaw assures me.
"I was hired to reshape the property business, get it functioning more efficiently and ensuring that MAG can extract more value from its property portfolio but also add value to our investors and shareholders in the business," she says.
"That's been a two-year journey, starting with appointing the right team and making sure I was hiring people that weren't just professionally qualified but also had a deep experience and a depth of experience in the market."
Those first few appointments included Adam White, who joined from JLL to head the business development team, and Jonathan Haigh, who was appointed as director of development management and infrastructure.
"They were two fairly major hires," says Shillaw, "but it wasn't just hires at that level, we wanted a strong structure beneath them and that has delivered results.
"People will tell you development is a hard world even in a strong market, you still have to work hard, but having that professional skillset, meant that we progressed a lot faster."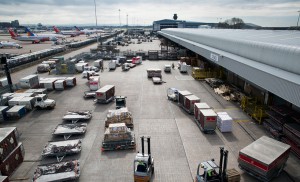 One of Shillaw's first tasks was to work on a major rebranding and repositioning of the business, a strategy that ensured the wider business community and investors knew what MAG Property did and what it had to offer.
Shillaw, who joined the business from Scottish Widows Investment Partnership, said: "When I came in, people knew MAG but did they really know what MAG Property was and what it did?
"The team did a huge piece of work finding out what the perception of us in the market was, looking at what we wanted to be and bringing all that into a relaunched brand.
"I think it has been successful and we soft launched it in October last year, so by the time we got to MIPIM in Cannes this year, we were firmly MAG Property in the eyes of the industry."
And Shillaw is not taking all the credit, emphasising the importance of having a high-calibre team around her.
She adds: "You can have all the ambition in the world, but actually showing that you are delivering on that and the market is seeing that you are pulling the people in, and that you're getting traction, and that you have presence and as a business you have profile, is something that you really have got to work hard at.
"So it's great for me now that I've hired all these great people. It means that I don't have to fill every panel, or do every interview, they are running that without me."
Shillaw continues: "At MIPIM, we were able to represent the four airports. We had people from the property team working with the London Stansted Cambridge Corridor, to representing Manchester and the East Midlands on their stands and exhibits."
While the rebrand strategy has been effective, the biggest challenge for Shillaw and the team has been masterplanning the surplus land around the four airports.
"If the land is not needed for an operational purpose, then we look at what we can do with it, is there a commercial opportunity to bring forward?" she says. "We've masterplanned all four airports and created a proper development pipeline, and making sure that pipeline is sustainable."
One of the biggest masterplans, has been work around the £800m Airport City Manchester scheme. It is currently one of the most exciting business destinations in development today and one of the most significant in the UK since the 2012 Olympic Park.
The total planning area of Airport City Manchester comprises of approximately five million sq ft GFA, with a total development cost of £650m and value of £800m. The site encompasses offices, advanced manufacturing and logistics facilities, along with hotels and ancillary retail. Directly adjacent to Manchester Airport, it is perfectly positioned for business with the UK, Europe and the world.
Shillaw says the scheme was a 'huge attraction' when she took on the role as CEO of MAG Property: "The fact that Airport City was a MAG joint venture was really exciting for me. "I am in charge of MAG's interest in that joint venture and I sit on the asset board with colleagues from MAG but also members of the other investor management teams, including BCEG, Carillion and Greater Manchester Pension Fund.
"As a joint venture board, we are responsible for the business planning, the strategy and the delivery of Airport City. It is huge and exciting, but these things can be slow and hard work. To get it to the point where we are at today has taken four to five years."
"That's always the case when you're developing 5m sq ft, it was the biggest development in the UK after the London Olympics. London is now firing up a number of big schemes but it's certainly one of the biggest in the UK and it's here, right on the edge of Manchester and right next to the airport, which is also investing £1bn in its transformation over the next decade."
"So this is an exciting an opportunity to bring forward. It's a real iconic development because we are going to create a new business district in Manchester that will build a legacy and it will be a business district that is really linked to the growth of the airport and the routes and destinations we serve and the investment and growth that will come from that."
Currently, Airport City South has three units out of the ground. This includes freight and distribution firm DHL, and BCEG is currently on site building ALPHA, a new £15m logistics facility. Later this year, work on the £12.5m link road and utilities at Airport City North will commence and that will open up the whole of the site.
Shillaw says: "At the same time, we are shortlisted for about 400,000 sq ft of requirement. I always said when I joined, that this was a brilliant scheme, and for anyone coming with a requirement to Manchester, this should make the shortlist, and we are now consistently making the shortlist, so that's really positive."
Another major development for Airport City was the announcement of the £130m 'China Cluster', which will aim to lure Far East firms to Mancheser.
The scheme was revealed during President Xi Jinping's visit to the airport last October, where he also confirmed a direct flight to Beijing, which will be run by Hainan Airlines.
"We were a key part of the reason he came," says Shillaw, who is now a regular visitor to China to meet with Chinese SMEs and investors.
"I'm back in China for the third time and again it is continuing to meet everybody, from the Chinese Chamber of Commerce and organisations that act as connectors to Chinese SMEs, which tend to be enormous, through to working with the British Consul and Embassy and UKTI, and making sure I continually meet people who will be either interested in occupying or investing in what we create at Airport City. It's been a real whirlwind two years."
Graduating in 1986 with a degree in accountancy and finance, Yorkshire-born Shillaw has had a strong career in the property industry, where she has headed Co-operative Estates, plus roles at Lloyds Banking Group and BT, where she worked for 18 years.
Shillaw joined MAG Property from Scottish Widows Investment Partnership, where she held the role of director of real estate. Shillaw says a combination of hard work, luck and supportive colleagues and managers has helped her progress up the career chain.
"My experience in the property industry has been nothing but positive," she says. "I've worked hard and met good people, sometimes it's been a bit of luck and being in the right place at the right time. But I've also had some great people supporting and mentoring me, and you can't underestimate that support."
Shillaw adds: "I would say the challenge in the job I'm doing now is just the sheer volume of what I've taken on and the speed in which I've done it.
"Coming into the role to create a professional environment and do these other things as well deliver business as usual, create strategies where strategies didn't exist, globalise the Airport City joint venture – all of that, by anybody's agenda, is a big challenge.
"But the other side of it is that it is what me and the team get the biggest buzz from. It means no day is the same, there's always something different. When we look back at what we have achieved over the last 18 months, we have come a long way as a business."
Read the full article in the Manchester Evening News here