More than 28 million passengers used Stansted Airport in 2018 – making it their busiest ever year.
The airport welcomed 2.1 million extra passengers compared to the previous 12 months. Stansted also experienced its busiest ever December with around two million people using the airport in just one month.
Stansted Airport CEO, Ken O'Toole, said: "The strong passenger growth we once again experienced during 2018, and the achievement of passing the 28 million passenger milestone for the first time in a 12-month period, reflects our clear commitment to re-invigorate the airport and make it more attractive to airlines and passengers.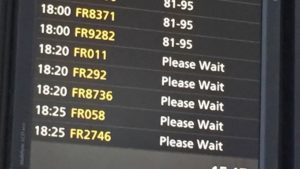 "During the year we welcomed six new airlines, including the world-leading Emirates offering a daily service to Dubai and 150 convenient onward connections, and also saw many of our airline partners increase capacity and choice of destinations, particularly Ryanair and Jet2.com.
"Stansted was the fastest growing major airport in the UK during 2018, and one of the fastest growing across Europe, and we are confident we will continue to grow passenger numbers and provide even more choice of airlines and destinations, including building on our work to secure more long-haul services to destinations across China, India and the USA.
"The year ahead will also be significant for our £600 million airport transformation project. We have already made great progress but, as we begin the construction phase of our new arrivals building later this spring, we will really see the flagship development of the project take shape.
Stansted Airport now serves 200 destinations across 40 countries.